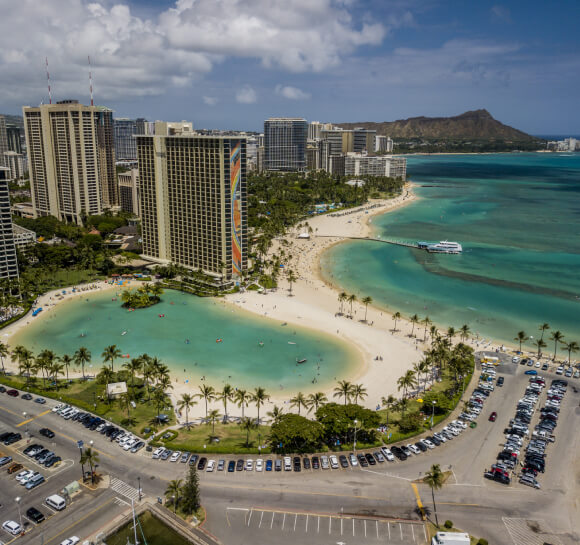 Lagoon

Parking

The Ilikai back foyer has a ramp that drops you right on the lagoon on the ocean side. You can park free on the left side during the day for up to 6 hours. These spaces always fill up with surfers during the day but open up throughout the day. There is no parking after 10:30pm in the free parking area. All cars are towed right at 10:30pm sharp so don't forget your car there.

Directly across from the free parking spaces there are paid parking lots that you can use for $1 an hour. Park in any stall and purchase your ticket from the machine at the entrance to the lot by can choose any amount of hours you want. The machines take cash and credit cards.
Long Term

Parking (2 month min)

If you wish to rent an underground parking stall on a monthly basis, the rate is $250 a month, minimum stay of 2 months (based on availability) to qualify plus a $25 non refundable activation fee. Make sure upon arrival you ask valet about this. Sometimes the hotel will not offer long-term parking so best to call the hotel directly if you need this.
Ilikai Resort

Valet Parking

Valet parking is available 24/7 and is $45 a day with in/out privileges, of course you must tip for each time. Please check the rate on arrival. No reservations needed. Just arrive anytime and valet staff is on duty.
Ilikai
Bell Captain
Bell captain service is available at the lobby, they can hold your bags for $2 each bag. No reservations needed but they do not hold bags overnight for security and liability reasons.
Red Lobster

Parking

Across the street on the west side on Hobron Lane is Red Lobster. There is a parking garage located there that offers parking for $28 per day. Please check rates upon arrival.
* Rates may vary, please check with the companies that provide these services for current rates.
Do You
Need A Car

in Waikiki?

You DO NOT need a car in Waikiki. Everything in Waikiki is within walking distance. There is little parking in Waikiki, and what parking there is, is very expensive. We recommend that all visitors rent a car for just 1-2 days after arriving to drive around the island but 80% of your time will be walking around and enjoying Waikiki.

It is recommended that you book online rather than walking up to the counter in Hawaii to rent a car. You will save around 30%. There is also an Advantage Car Rental desk right by the front desk in the lobby.

Did you know to walk from one end of Waikiki Beach to the other end is just a 25 minute walk? That is it.
Arrival
From the airport, the recommended way to get to Waikiki is to take a taxi for appx. $32 plus tip. Its fast and in just 20 minutes you are in your condo. There is a Speedie Shuttle Company that shuttles people to Waikiki Hotels, but their rates are actually higher than a taxi if you are two or more people with baggage as they charge $15.48 per person, min. 2 people, plus $10 extra for golf clubs, $8 extra for each bag over 2 per person. Plus they drive around the airport looking to fill up their vans that could make it at least an hour before you get to your condo.
Visiting
locations
Visiting locations on this side of the island is a snap without a car. There are tons of companies that service the whole area with super inexpensive shuttle bus service. For example, for just $11 round trip, they pick you up at the front door and take you to Hanama Bay, includes snorkel, mask and fins. Same price to the huge flea market at Aloha Stadium. Pearl Harbour is also appx. $14 round trip with shuttle bus and you get inside info from the drivers.
Departure
Best way to the airport on Departure is to call Charley's Taxi at 808-233-3333 the day before and schedule your taxi to the airport. Charley's is the best taxi company we know of and is the only one that offers a flat $29 taxi ride to the airport plus tip. Charley's is also the company that has all their cars right in front of the Ilikai so if you don't reserve in advance, you can just go downstairs and grab a taxi from them near the valet.