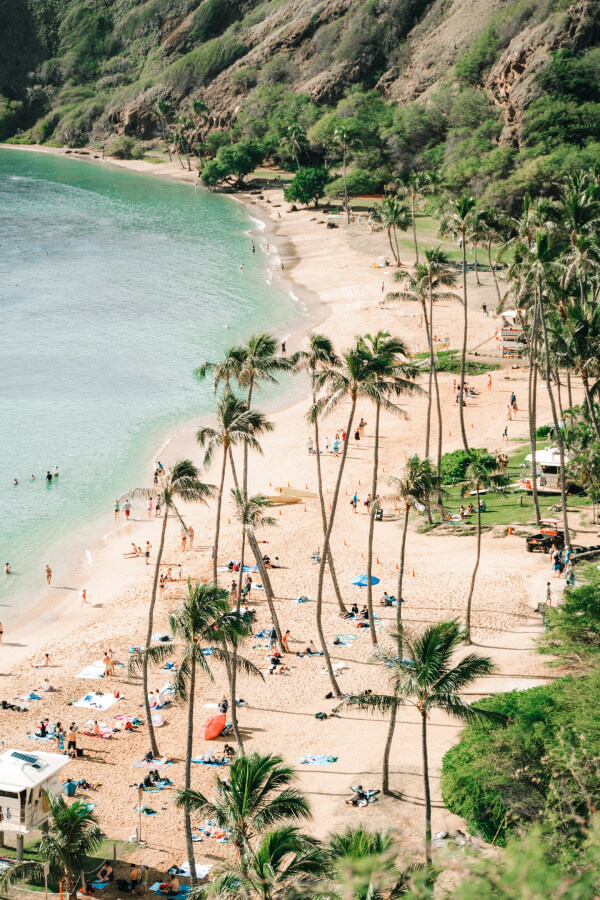 Hanauma Bay
Introduction to
Oahu Driving
Before we take you on a tour around the island and all the great spots to visit, let's discuss the most asked question and one that will save you loads of money, to get a rental car or not to get a rental car.
You DO NOT need a car in Waikiki. Everything in Waikiki is walking distance. There is little parking in Waikiki, and what parking there is, is very expensive. We recommend that all visitors rent a car for just 1-2 days after arriving to drive around the island but 80% of your time will be walking around and enjoying Waikiki. From the airport, you can take a Waikiki Shuttle Bus for just $15 round trip per person (which you may have to wait 45mins for) or appx. $30 by taxi to the Ilikai Resort. The bus leaves every 30-40 minutes and takes 20 minutes to the resort which is the second or third stop.
Valet parking at the Ilikai Condos is $45 per day with in/out privileges or $0.50 an hour / $12 a day at the lagoon public paid parking spaces, just a 1 minute walk behind the condo on the ocean side. Please be advised, parking on the left side closest to the lagoon is free parking during the day for 6 hours, but at 10:30pm sharp, they tow all cars away as there is no night parking so make sure to move your car over to the paid parking lots before that or it's $125 to get your car back plus the taxi fare to get to the car impound yard. There is also no in/out privileges. If you move the car, you have to pay again if that stall is occupied when you return.
Visiting locations on this side of the island is a snap without a car. There are tons of companies that service the whole area with super inexpensive shuttle bus service. For example, for just $11 round trip, they pick you up at the front door and take you to Hanama Bay, includes snorkel, mask and fins. Same price to the huge flea market at Aloha Stadium. Pearl Harbor is also appx. $12 round trip with shuttle bus and you get inside info from the drivers.
Choosing which of Hawaii's many visitor attractions to see is no easy task. There are surely more things to see than you'll ever be able to see in one trip, even if you stay entirely on one island.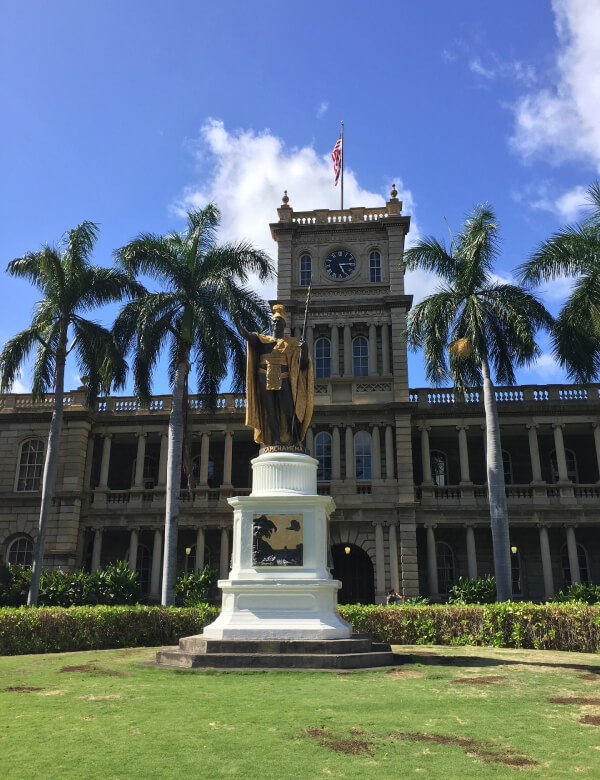 King Kamehameha statue
Such is the case on O'ahu, home Hawaii's largest city Honolulu, and to most of Hawaii's population. It is an island steeped in Hawaii's rich history.
We'll take a look at some of the most popular visitor attractions on O'ahu. We'll look at Waikiki and the world famous Waikiki Beach; downtown Honolulu; Windward O'ahu and finally Central O'ahu to Pearl Harbor. Many of these attractions are free. Others charge a nominal entrance fee.
We urge all of you to pick up the current editions of the various visitor publications when you arrive in Hawaii. Many of these publications offer discounts, and often even two-for-one admission savings for many of the most popular attractions.
Whether you drive past Diamond Head and Maunalua Bay and around Koko Head Crater past Hanauma Bay, Sandy Beach, Makapu'u Point and Waimanalo or begin your drive at the end of the Pali or Likelike Highway at Kane'ohe Bay, a drive along O'ahu's Eastern Shore and Windward Coast makes for a perfect day trip from Waikiki. For the purposes of this feature we'll define O'ahu's Southeast Shore as the area from Koko Crater to Kailua and the Windward Coast as Kane'ohe Bay all the way to just before Laie, the gateway to the North Shore.
The Kalaniana'ole Highway is the main road along the Southeastern Oahu Coast. The Kamehameha Highway and the inland Kahekili Highway are the main roads from Kaneohe northward.
In order to explore O'ahu's Southeast Shore you'll need to drive past Diamond Head towards the residential area of Hawaii Kai and past Koko Head Crater. Assuming, however, that you drive from downtown Honolulu north on Pali or Likelike Highway, you will begin the next part of your trip at the beginning of O'ahu's Windward Coast. Look for signs to the Kahekili Highway. The Kahekili Highway parallels the Kamehameha Highway, but a bit inland.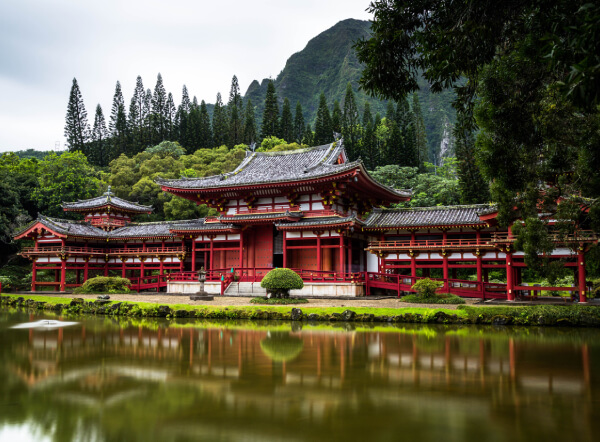 Byodo-In Temple
If you take this road you will come to the Valley of Temples and the Byodo-In Temple. This temple is a precise replica in concrete of a 900 year old temple in Uji, Japan. The grounds of the temple are lovely. Chances are you'll see a wedding either going on or about to begin.
After you rejoin the Kamehameha Highway you'll come to the intersection of Pulama Road. Up the road to the left you'll find the plantation and gardens of Senator Hiram Fong. Born in China and immigrated to Hawaii, Senator Fong became a successful lawyer, businessman, and U.S. Senator for seventeen years. After 35 years of planning and planting his property was opened to the public in 1988 and still may be seen only from a tram with a tour guide who does, however, make frequent stops.
Proceeding north on the Kamehameha Highway you will pass Mokolii Island, more popularly known as Chinaman's Hat for obvious reasons. Before you reach the town of Laie and the North Shore of O'ahu, you'll come to Kualoa Ranch. Many motion pictures and TV shows have been filmed on the ranch's property including LOST, Jurassic Park and 50 First Dates.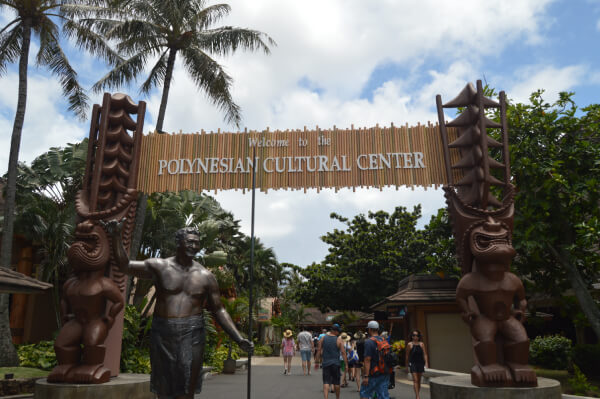 Polynesian Cultural Center
The ranch offers over 15 outdoor activities including ATVs, horseback rides, target shooting, helicopter rides and a ranch and movie set tour. Many choose just to relax at Secret Island, the ranch's secluded beach.
Apart from the amazing beaches where some of the world's largest surfing competitions are held annually, the area from Laie to Haleiwa - the North Shore, is best known for two major attractions, the Polynesian Cultural Center and Waimea Valley Audubon Center.
In Laie you will find the Polynesian Cultural Center, Hawaii's most popular privately owned attraction. Here you will find re-created villages of seven Polynesian cultures, Fiji, the Marquesas, New Zealand, Samoa, Tahiti, Tonga and Hawaii.
Students at nearby Brigham Young University Hawaii who come from these islands share their culture, their art and their dance. The students work in exchange for tuition, room and board.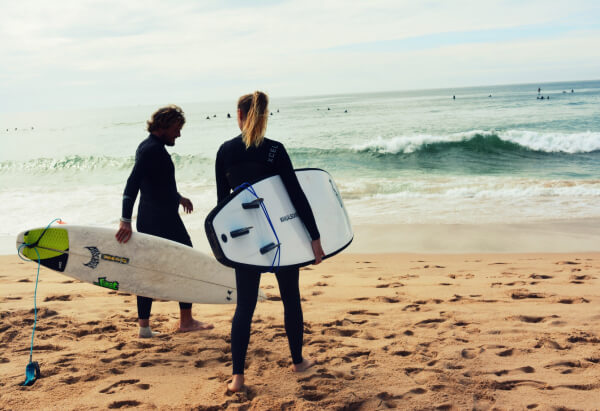 Surfing Beach
Activities abound at the Polynesian Cultural Center. The afternoon canoe pageant is a popular attraction as is the evening luau and show. If the drive to La'ie is too far for you, there are many tour companies that offer round-trip bus transportation and admission to the Polynesian Cultural Center with pickup from your condo in Waikiki.
After rounding the northern tip of O'ahu, the Kamehameha Highway passes some of the most famous surfing beaches in the world. If you're on O'ahu in winter, you're likely to see the very high waves that make O'ahu's North Shore famous. The highway eventually makes its way to the town of Waimea, home to the Waimea Valley Audubon Center. The Center provides a unique experience where visitors can immerse themselves in Hawaiian natural and cultural history.
The center is a leader in native flora collections and offers insights into Hawaiian ecosystems and pre-contact history. This is a self guided experience where visitors to the valley are invited to explore the many botanical, cultural and historical resources distinctive to Hawaii.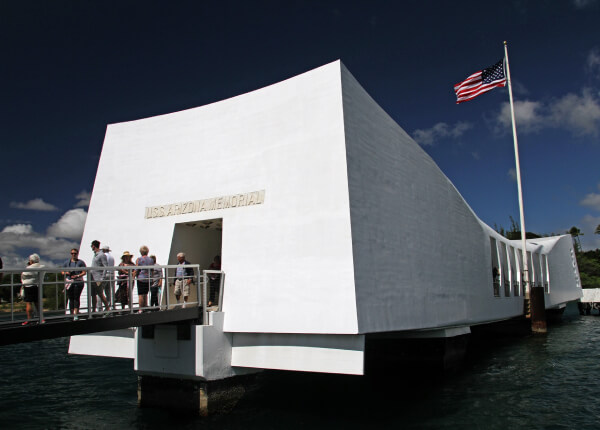 USS Arizona Memorial
The drive through central O'ahu from the north shore town of Haleiwa will take you past much of O'ahu's history. You will pass through areas which once were planted with sugar as far as the eye could see - until the sugar industry began to die on O'ahu. Many of these fields are now full of a newer crop, coffee.
You'll pass through some fields still planted with pineapple for the Dole Corporation. Along the way you can stop at the Dole Plantation Visitor Center where you can sample many pineapple treats, purchase lots of souvenirs and even try to make your way through the world's largest maze.
The road south takes you past much of Hawaii's military history including Schofield Barracks, considered by many to be the most beautiful military base in the world. As you reach the end of H2 you will find yourself near Pearl Harbor. A visit to Pearl Harbor requires at least a half day, or more, if you intend to visit all of the sites.
Pearl Harbor is home to the USS Arizona Visitors Center and the USS Arizona Memorial, the USS Bowfin Submarine Museum & Park and the USS Battleship Missouri Memorial..
We've now made our way around a big circle and arrived back in Honolulu. You certainly can't see all of these attractions in one day or even one trip. That's one of the reasons that so many tourists come back to Hawaii and and the island of O'ahu again and again.